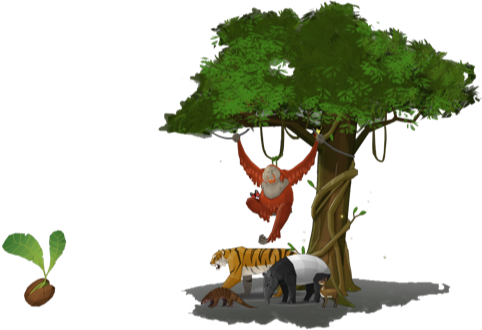 10282
TREES PLANTED

Did you enjoy your Into The Wild adventure? As you've just seen, the rainforest faces serious threats like deforestation and poaching. Indonesia's rainforests are disappearing at a rate of 3 football fields per minute. As a result, we are losing species in Southeast Asia at twice the rate of the rest of the world!
Help us protect the last 371 Sumatran tigers in the wild and support our conservation work. With your generous donation, we can help halt deforestation and rebuild crucial tiger habitat to secure the home of the most endangered species in Southeast Asia.
As a special thank you, WWF will plant a tree for you in Rimbang Baling, one of Indonesia's last pristine rainforests and a final frontier for Sumatran tigers. The tree will be planted in the "tiger corridor" – a critical linkage connecting wildlife reserves and one of the few places where tigers mate. Not only can you name the tree, we'll also send you updates and pictures of it.
---
We'd love to hear what you think of the experience. Click here.